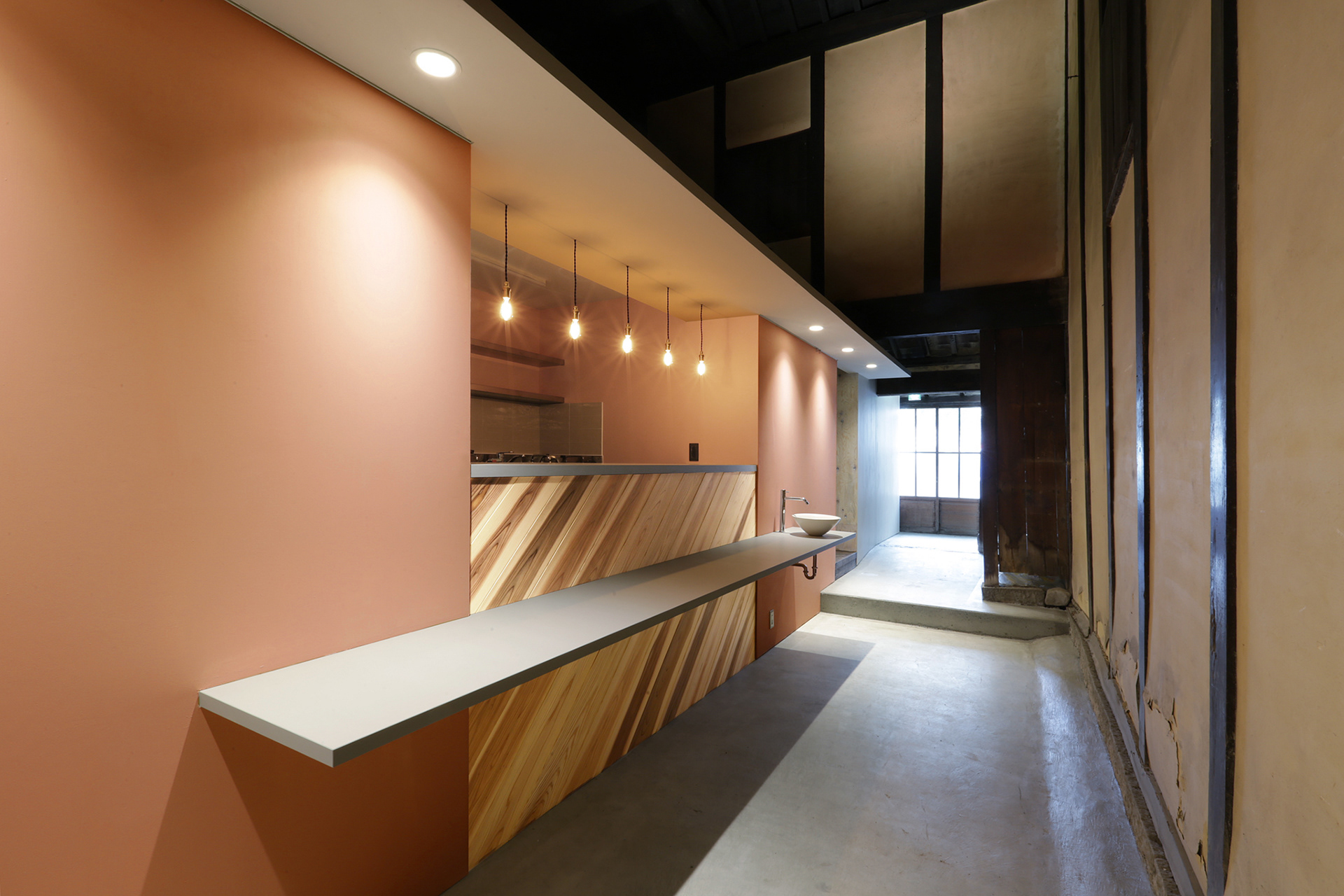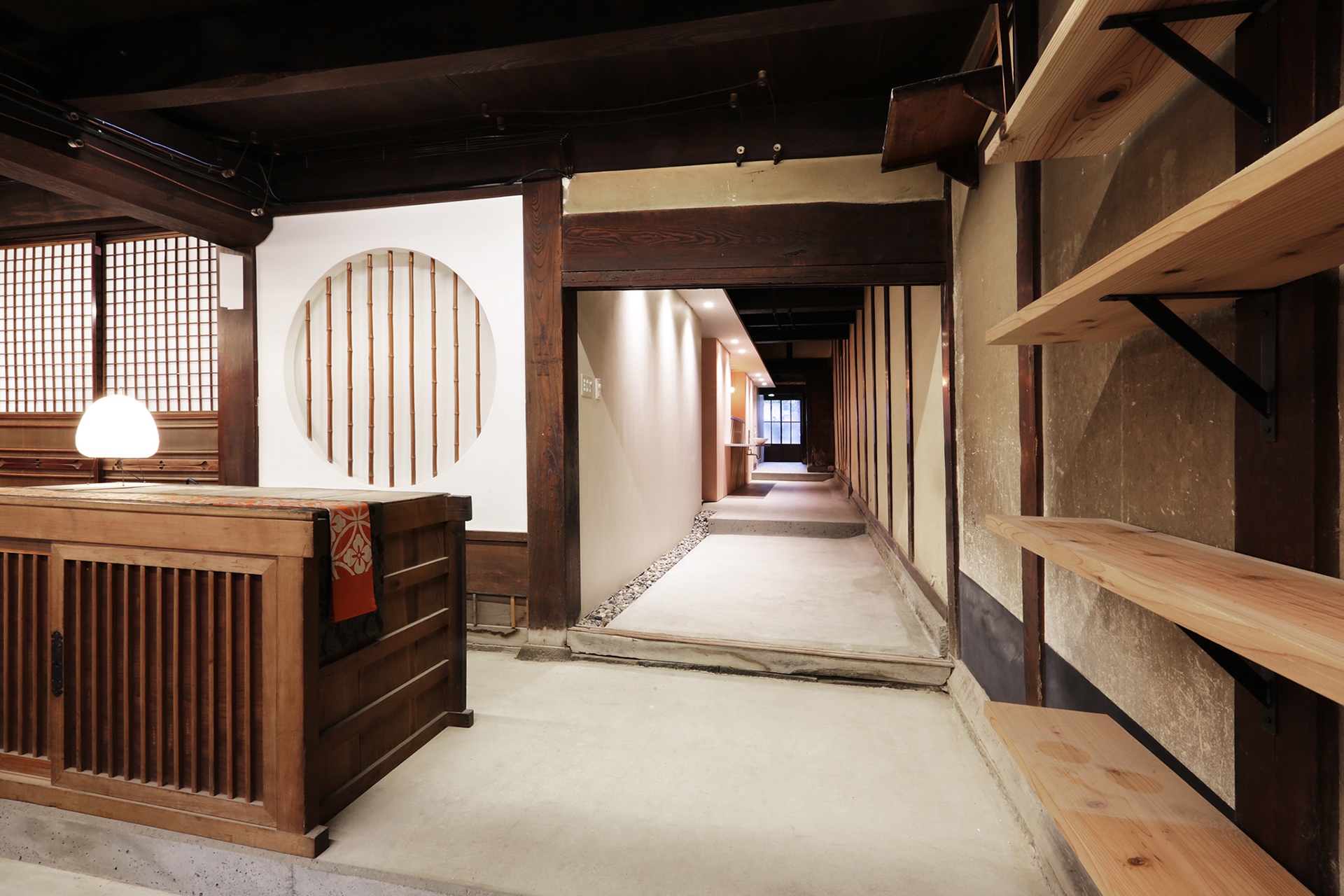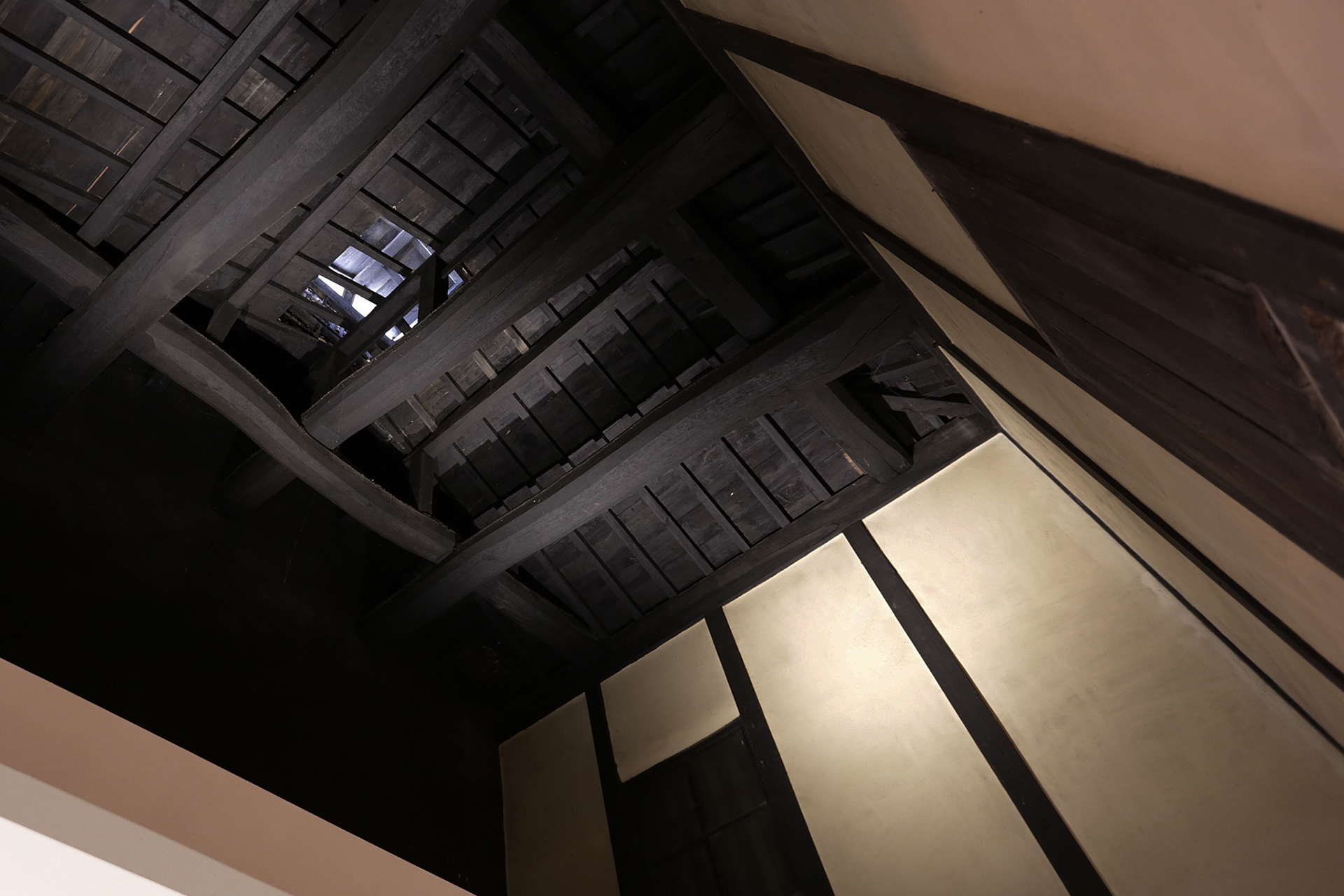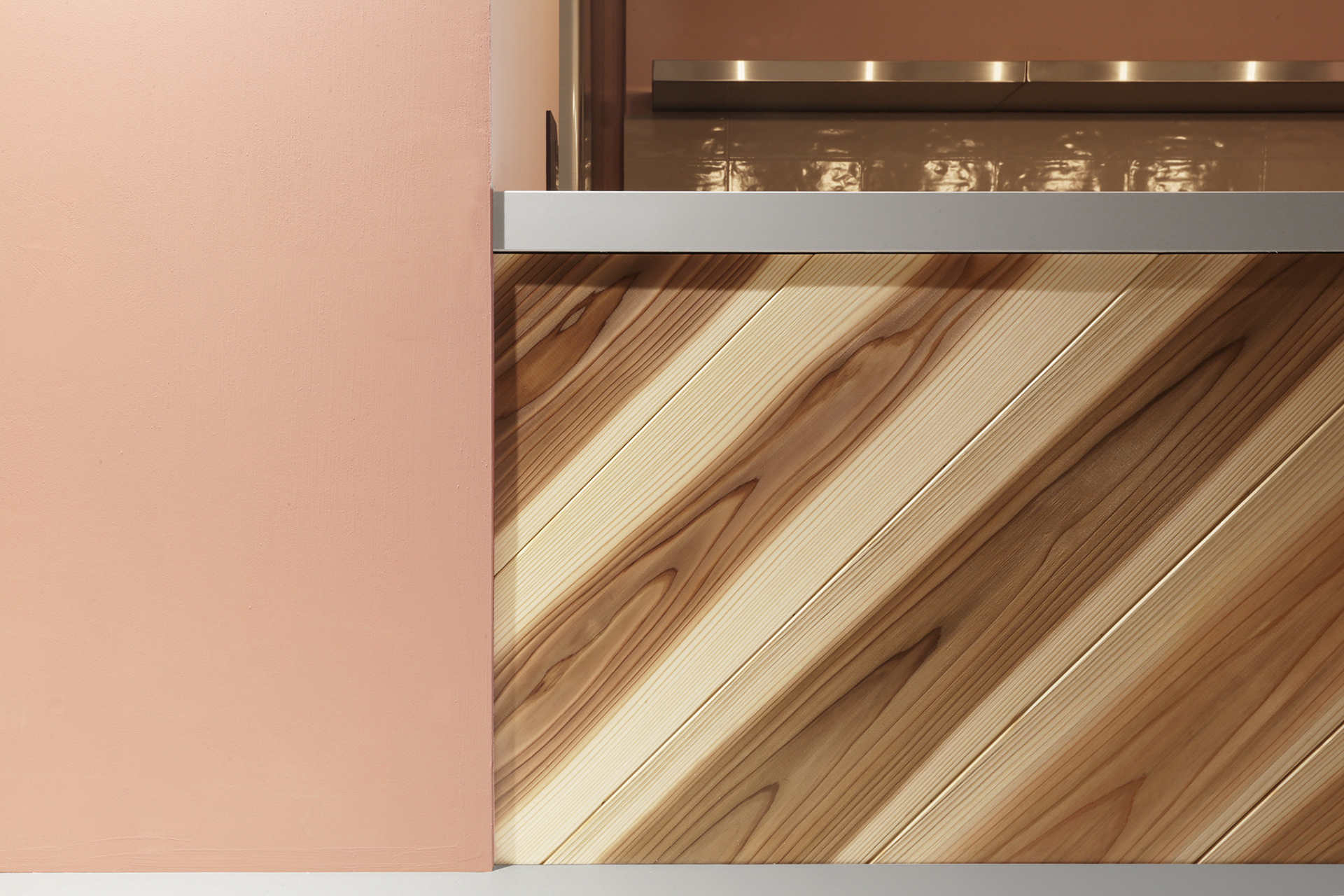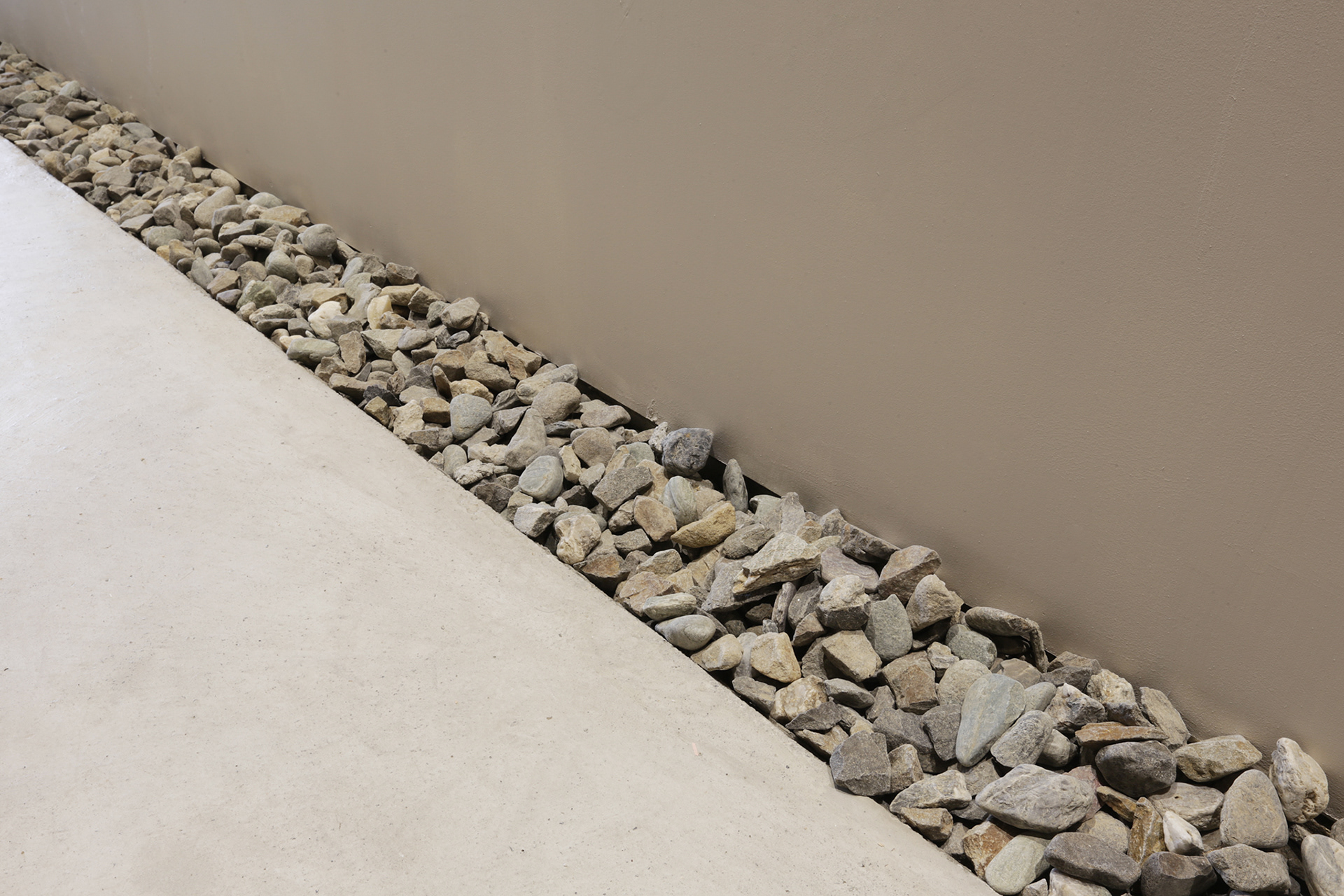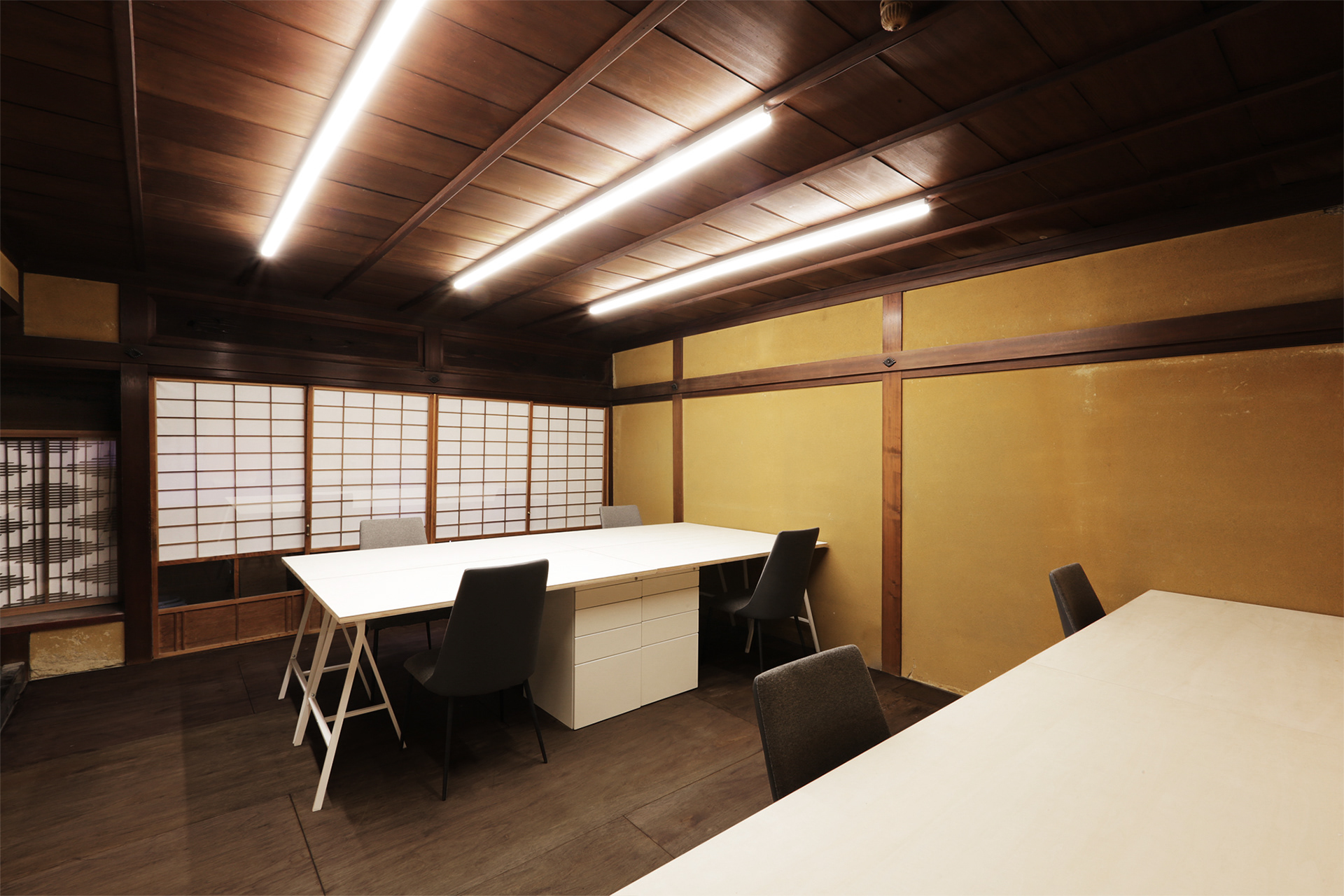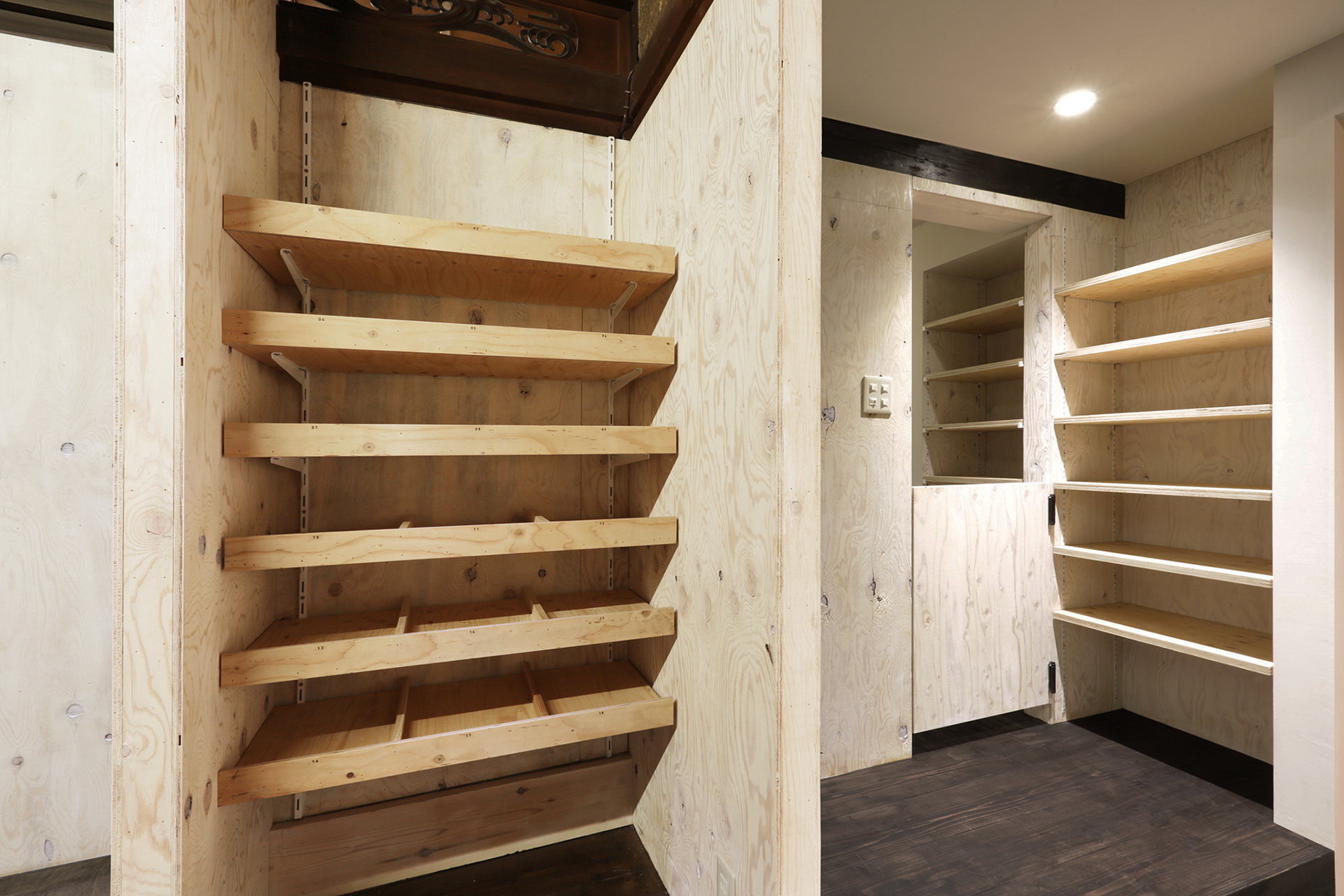 It is the second phase of construction of an old Japanese-style house renovation project in Mima-city, Tokushima.

After the first phase of construction, there were numerous visits by administrative and company visits as a modern use case of old houses. In the 2nd phase construction, we aimed to create a more comfortable office environment, with the expansion of the office space, and development the kitchen and toilet.
In order to satisfy the functions required in the limited budget, we decided to intensively examine the volume surrounding the kitchen without changing the framework. In the path which was dark before, we set up a new kitchen counter as a "lighting place" where people gather.
The cedar board used for the counter and the stone of the Yoshino River laid in the approach speaks the story of the area eloquently.After construction by a local builder, we planned a DIY workshop by neighboring residents and stakeholders, and installed floor and wall paintings and postal shelves etc.
In the second phase of construction, we secured a flow line that can directly access the inner office area. As a new migration flow line was born, it became possible to use multiple spaces simultaneously and multiple times. As the third phase of construction, Repair of the second floor and the setting of the shower room are planned in the near future.
—
2018  Mima-city, Tokushima
Client:G&C consulting
Creative direction : COTONA Inc. (Teruhiro Kataoka)
Interior design : COTONA Inc. (Teruhiro Kataoka)
Construction:Naito kensetsu
Photo:Teruhiro Kataoka
築約150年の古民家改修プロジェクト2期工事
3年の間空き家となっていた築約150年の古民家を、シェアオフィスおよびテレワーク用オフィスへとコンバージョンする第2期計画。建物は徳島県美馬市脇町の重要伝統的建造物群保存地区に指定されている「うだつのまち並み」に面することから、外観には手を加えずインテリアのみの改装を行うこととなった。
1期工事の後、古民家の現代的な活用事例として、行政や企業視察の数多くの訪問があった。2期工事では、より快適なオフィス環境の創出を目指し、執務空間の拡張と合わせてキッチンおよびトイレの整備を行うこととなった。
限られた予算の中で求められた機能を満たすため、躯体に関わる壁面には手を加えず、キッチンを囲うボリュームを集中的に検討することとした。従前、薄暗かった通り庭にはキッチンカウンターを設け、人の集う"明かりだまり"となることを意図した。
カウンターには地元徳島県産の杉板を張り、土間のアプローチには吉野川の川石を敷くなど随所に地域の物語を埋め込んでいる。地元工務店による工事終了後、周辺住民や関係者によるDIYワークショップを企画し、床や壁の塗装や郵便棚等の取付けを行った。
2期工事では奥の執務エリアに直接アクセスできる動線を確保した。新たに回遊動線が生まれたことで、複数の空間を同時多発的に使用できるようになった。今後は2階の整備やシャワールームの設置等さらなる拡張が予定されている。
—
2018年 徳島県美馬市
クライアント | G&Cコンサルティング株式会社
インテリアデザイン | 株式会社コトナ (片岡照博)
施工 | 有限会社内藤建設
写真 | 片岡照博